The Festival Nottingham Part 2
Friday in Nottingham. The plan was to play flight 1C in the Main Event, but since I was a bit tired after the week, I decided to sleep forever. Eat a good dinner with Airdraken, GJ and Tobias at the italian restaurant Casa Italia, before playing the Turbo flight 1D later on. We did have time to some rounds of backgammon before my flight started. Unfortunately i did not go any good with the poker. I busted 2 bullets, and decided to go out playing some shuffleboard at Roxy Ballrom insted.
Part 1 of this blog is here: https://www.poker.no/2023/02/18/the-festival-nottingham-part-1/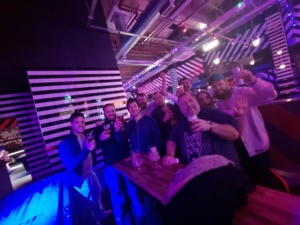 We joined the other norwegians at Roxy Ballrom Thurland Street. They where actually empty for sand, you need siliconsand to be able to play. And the lightning with red and blue light over the shuffleboard, made it almost impossible to se the stones.
Saturday I went out to eat dinner with some norwegians before the PLO/PLO8. They only had 2 tables available for the PLO/PLO8 when it did start, and they did not tell us when we registered, that they had changed the tournament to a PLO8. For my part that was a nice adjustment, since PLO8 was the game I wanted to play, but I would have prefered to get that info before i bought in. After a little while, they managed to open more tables for PLO8, so I jumped in and came at the same table as 100HourChallenge aka Erik.
I also got to patch up Jason Glatzers computer with a lucky pomeranian-patch :)
The PLO8 was a single re-entry tournament. The first bullet I got it in with what I think was a very good lowdraw 3-ways, against 2 opponents with no low draw. River was blank, so I had to take a re-entry. On the 2nd bullet I flopped three of a kind with nutlowdraw, but opponent flopped a house, and the board bricked, so it was straight out of the tournament.
The plan was to find someone to play some backgammon with in the bar, but then I got invited to join the 2/5£ NLHE Cashgame Challenge. Since everything else had bricked in Nottingham, I thought it was a good plan to blakk someone at the Cashgame Challenge, I mean, how hard could it be? It was all streamed on: https://www.twitch.tv/thefestivalog
Turned out it was quite hard. They were solid tight NLHE players, and Ylva with redwine dont do well in those games. I did survive until the last three hands break even, but got dealt QQ and we ended all in vs AK. The flip went the wrong way, but I did have a very social and good time. Did also play with Leo Sigurdsson, the icelandic from Main Event Bratislava. We played a funny hand, where  I had slæææh, and he bluffed back with T8o. After the game he joined the bar for some backgammon :)
Sunday was superhangover day/railing the last pomAA-patch on the FT in Main Event, Vegard Melgalvis. He started the day very short, but he had a plan, and did fight back and did some good payjumps. He ended in 6.place, GG!
After this we spontaneously ended up having a very social evening. Did not see that coming, but Vegard wanted waguy and redwine! We ended up sharing the waguy sharingplatter at Tomahawk Steakhouse Nottingham, with Vegard, Oskar and Jr. The sharingplatter is plenty meat for 4 people, even though the waiter told us 2 can handle it. They also had a good cocktailbar, with the best espresso martini I have had.  After this we went to Roxy Ballrom to play a bunch of games.
Thank you so much for 1 fantastic week of lots of social time! ❤
Next up is The Festival Malta. You can already qualify here.
I will have 8 Jevakims The Festival Special Satellites with 1*1300€ package GTD in every satellite. I will stream the satellites every Tuesday and Friday from Tuesday 11.april. Full schedule for Malta: https://www.thefestival.com/news/malta-schedule
Now it is less than 2 weeks until I leave for Mixed Poker European Championship + North Masters Bratislava. Full schedule for both series is here.
I will update every day on my instagramstory: Jevakim84
Vi spilles!
Andre nyheter